Night of the Living Harolds
A downloadable game for Windows
What's behind that door? Trick or Threat?

Night of the Living Harolds is a short game-clicker-quick time event-rpg-hybrid-thing, that features a 10 floors dungeon exploring with Therese as protagonist, trying to save herself and her friend Harold from the curse of an Ancient Pharaoh Overlord. Open doors, defeat monsters, collect gold, empower Therese, avoid hurting Harold and most importantly: Click, Click, Click!
The game is part of Angoraverse, a fictional universe I created for my games.
FEATURES
Fully customized Battle System that involves both Clicking and Quicktime-Eventing.
10 Dungeon floors with 12 randomized doors each.
Every randomized door might have 1 out of 8 different effects.
Various enemies to defeat and a boss.
It's possible to power up Therese using the Shopkeeper or the Shrines in the doors (for gold).
You can throw jerkys at Harold in the game and he will always catch them! That's totally a feature!
Overused Emotion Balloon Icons (like the previous game!)
Short and silly storyline with a few dark twists.
GAME LENGTH
HINTS
Be sure to read the TUTORIAL in-game, it contains a lot of useful information about how to play properly.
COMMONLY ASKED QUESTIONS
Are there pies in the game?
Jerkys only to Harold's much delight, that look like shiny sparkles in-game for RTP reasons.
CONTROLS
Selection - Mouse
Confirm - Left Mouse Click
Cancel - Right Mouse Click
F4 - Fullscreen
ESC - Menu (Exit Game, Tutorial, Cancel)
FINAL NOTES
This short game has been made in 3 days using Rpg Maker MV for the Rpg Maker Game Jam on itch.io and RPG Maker Web. It's also available here and in this page.
AWARDS
Ranked #2 in the RM Game Jam here: https://itch.io/jam/rpgmakerjam/results
CREDITS
Writing
Eventing
Graphics Editing
Mapping
<DALPH>

Eventing
Scripting
Testing
<SUSAN>

Performance Fix
<YANFLY>

Original Materials
<KADOKAWA>

Music
<KADOKAWA>

Sound Effects
<KADOKAWA>

Special Thanks always goes to <Susan> for annoying the hell out of me during the whole development.

Copr. 2017 Dalph & Kadokawa

FAN ART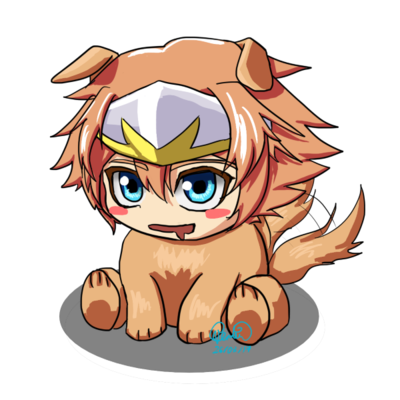 Puppy Harold! Special thanks goes to @Verdelite for this superb art piece.
GOOD LUCK AND HAVE FUN!
And please report any bugs (if you find them).
RELEASE HISTORY
v1.0 - 08/21/17 - First Release.
v1.0b - 08/30/17 - Various minor graphical fixes and add-ons, general improvements, file size optimization.
v1.0c - 09/21/17 - Added a short cutscene after the intro showing the new tutorial picture ingame. The picture can be accessed anytime now (except in battle) pressing the ESC button and choosing it.